Dear citizens,


You have all been carefully selected, and through an intense process of filtering the identities, are now cordially invited to participate and contribute, to form the exclusive audience of the coming event entitled "The Hand That Feeds You".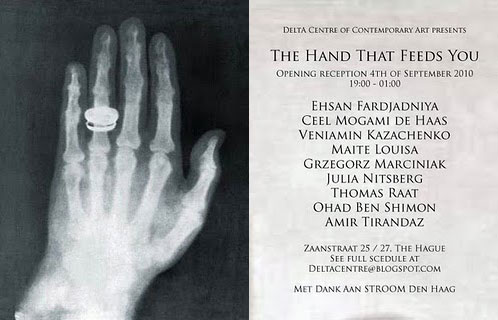 You'll see the coming show is not a conventional exhibition, where you invite a bunch of artists whom you like and they hang their works up and there is the opening and then... No. The participating artists of any discipline, it can be a writer, composer, photographer, has to redefine his practise, reformulate himself, to position self in society. This is an attempt to develop and correct to a certain extent the conception of the artist and art initiative in the eyes of the beholder, in the eyes of the civil servant, the officer, the council of the prosecution. The title of the show indicates questions like 'who is the hand that feeds you?', or 'what do you do to the hand?' and is meant to criticise or debate the position of the institute and the functionality of, in this case the new DeltA Centre of Contemporary Art.

We hopefully Don't expect not to see anybody!
DeltA Centre of Contemporary Art
Opening Reception: 4th of September 2010, 19:00-01:00 (Hoogtij 22, Museum Night Den Haag )
Finissage: 24,25th Sep. Todays Art Festival
Adres: Zaanstraat 25 / 27, The Hague
You can see the actual updates and the schedule on our blogspot here.